EDITOR'S REVIEW
Editor's Review of Cougar Life
Overall SatisfactionA Value For MoneyA SupportA - Ease of UseA Quality of MembersA SafetyA FeaturesA -
Cougar Life is an online dating site where older women can meet younger men (duh). The thing is, this is just about the best site on the web when it comes to "Cougar" Dating. When it comes to niche sites like this, of course you want a great look, design and good features. But more than anything, Cougar Life has a strong reputation and has a huge number of members. They do great marketing and have a lot of visibility in social media (facebook page has thousands of likes). That kind of visibility brings in a lot of young cubs.
The site is well designed and easy to navigate. My search for local cougars and cubs returned a good selection of matches. Some of the profiles didn't have any information besides age and location so it was a little hard to know how legitimate they were. Other than that there were definitely a lot of what Cougars are looking for.
If you are looking to try out a Cougar dating site then this would be one that we recommend.
MEMBER REVIEWS
Recommend?


Overall SatisfactionB SupportB - Ease of UseA - Quality of MembersB SafetyB FeaturesB Value For MoneyA -
User Reviews of Cougar Life

Yannick, Georgia, US
Seen a lot of female reviews, so here's one from a guy's perspective. Support can be way slow to respond at times, but overall one of the few "cougar dating" sites that has actual, legit members and isn't filled to the brim with fake profiles. Not the cheapest, but all in all great value for money if you play your cards right *grin* .

New York, New York, US
Terrible experience. Stood up and left waiting in a strange place by one guy. Stalked by another. Another bought me lunch and practically shoved me out the car afterwards. The rest just stopped contacting me. All they want to talk about is graphic sex before they even meet u. Site should be illegal

Elaine, Oak Park, Illinois, US
Definitely never saw myself trying out a site like this but have been meeting interesting people :) Beats going out and trying to find younger men in a bar and being made fun of by your girlfriends!!
PRICING
Cougar Life is a paid site
| Options | Total Cost | Cost Per Month | Savings |
| --- | --- | --- | --- |
| 1 Month | $40.00 | $40 | 0% |
| 3 Months | $87.00 | $29 | 28% |
| 12 Months | $144.00 | $12 | 70% |
TRAFFIC
Traffic
Overall Traffic Rank: #27 out of 759 dating sites
Age Gap Dating Site Traffic Rank: #1 out of 18 sites
Monthly Visitors: 338828
SOCIAL MEDIA
Social Media
Cougarlife.com has 31689 Facebook likes, making it rank as #27 for all dating sites and #1 for Age Gap Dating category
Links to Cougarlife.com social page(s) below :
MOBILE SITE INFO
Mobile Site Info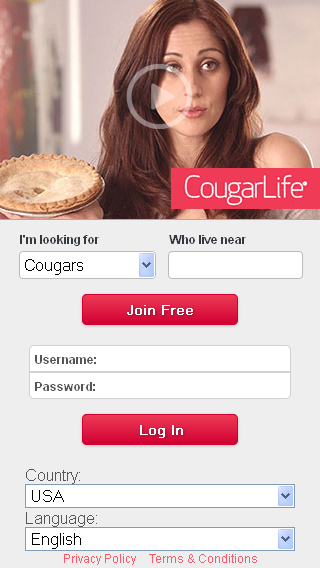 Cougar Life has a mobile website as shown in the screen to the right.
Cougar Life also has an Android App and an iPhone App (Links below):
OTHER STATS
Other Stats
Cougarlife.com was started on Apr 7, 2006
Cougar Life is owned by Cougar Life Inc. . Other sites owned by Cougar Life Inc. include:
SITE FEATURES
Cougar Life Site Features
Create a free profile
Browse profiles without a paid membership
Instant message
Send and receive emails
Show who's online now
Video chat
Chat Rooms
Forums
Date of member's last visit
Advanced search feature
See who's viewed your profile
Block members
Send winks
Show new members
Mobile site
Favorite's list
Pay extra to enhance or highlight profile
Dating articles
iPhone App
Android App
Cougar Life Missing Features
Contact other members without a paid membership
Matching feature based on profile
Control who sees your profile
ID confirmation
In-depth questionnaire/compatibility test
Recorded video introductions
Members screened against criminal records
Send virtual gifts or flowers
Rate other members
Find someone guarantee
Amazon App